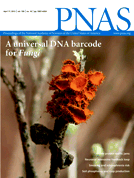 The ITS gene region has been selected as the official gene for fungal barcoding in a recent publication of the Proceedings of the National Academy of Sciences. Myself and two colleagues from Landcare Research are co-authors of the paper (as members of the Fungal Barcoding Consortium). We provided gene sequence data from our vouchered collections of Colletotrichum and Chlorociboria.
In April 2011 I attended the conference in Amsterdam where evidence was presented on the selection of a fungal barcode using data from many collaborators from around the world. I was very impressed rigour of the presentations, ITS was not just simply selected due to its current widespread use. The data from this meeting was used to write the PNAS paper.
For some groups though, ITS does not work well. I presented on this at the 4th international barcode of life conference in Adelaide in December 2011.
References
Schoch CL, Seifert KA, Huhndorf S, Robert V, Spouge JL, Levesque CA, Chen W, Bergeron MJ, Hamelin RC, Vialle A, and Fungal Barcoding Consortium (2012). Nuclear ribosomal internal transcribed spacer (ITS) region as a universal DNA barcode marker for Fungi. Proceedings of the National Academy of Science (PNAS). 109: 6241-6246. Open Access.
Weir BS, Johnston PR (2011). Towards a secondary fungal barcode for Colletotrichum [Sordariomycetes, Ascomycota]. 4th international barcode of life conference, Adelaide, December 2011. PDF of presentation.